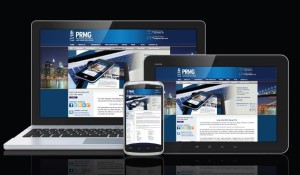 When running a business, one of the most important branding and marketing strategies is to create an informative, effective website. How can you decide if your business is better off with a template or a custom-built website? First, think about the goals, budget, and scope of your campaign. For example, if the main objective is a quick, low-cost redesign or creating your first website, a template-based website could be beneficial for your business. However, while many business owners create their own websites using templates through sites like Weebly or GoDaddy, these templates may hinder your overall marketing strategy if your company is looking for a more comprehensive set of services.
First Impressions
Your website is oftentimes the first point of contact with a client, and you want to make a good first impression. Consider that the average amount of time a viewer spends on a webpage is less than one minute. Therefore, you want your website to look professional and carefully constructed to influence viewers to stay as long as possible.
Features
Many cookie-cutter website templates allow you to change colors, text, and a few stock pictures, but not much else. These templates have the bare essentials of a website, like a home page and a few informational pages, but will not maximize your business' potential. To avoid choosing the wrong type of template, you may consider one that allows you to edit your own content. Make sure you can add or adjust your logo, choose your own images, change text, add pages and edit the site's HTML. This way, you are able to use a template, but give your website the look of a custom site.
On the other hand, if you are interested in a custom site, a Web designer can fully customize your website to relay your business' message with landing pages, in-depth bios, and multimedia content. Web designers can add special features that a template often cannot, like live chat, a blog, and a contact form. These features are considered essential parts of your business' website and allow for the most interaction between you and your customer base. Keep in mind that, while beneficial, these features may come at an additional cost.
Branding
Many places offering to create your site have a limited number of templates — which makes it difficult to create a brand for your business and differentiate yourself from the competition. If you are going to use a template, the ability to write your own content and update it as your business requires will be the most important feature on your site. In addition, you may also consider adding pages to your website later down the line to include additional features. Therefore, be sure you choose a template that is flexible in the number of pages you are offered, as many people offering templates will not be willing to change this for your business needs.
A professional Web designer can set the tone for your branding. A designer can create a logo, banner, or color scheme that will make your business memorable in the minds of consumers. Designers are also able to ensure a consistent visual brand that can be used across all marketing materials (print, Web, TV, etc.) which will strengthen your reputation and promote recognition among potential clients.
Goals
Whether you're redesigning your website or creating the first versions of a site, you should keep in mind the goals you want to achieve. The most influential factor between a template and a custom website is usually cost. A template may be created for a cheaper price, but it may not do much for your business. For example, it may not be for search engines. A custom site can include keywords, appropriate backlinks, and landing pages, to provide you with a website that ensures it is getting the visibility it deserves. More visibility means more business and, therefore, may be the better investment.
If the only money in your marketing budget is devoted to building and maintaining a website, a template is most likely the best option for you. If you plan on implementing other marketing strategies such as search engine optimization, public relations, direct mail, or advertising, it would benefit you to opt for a custom design.
Associated Costs
Along with price, you should consider any contracts or recurring fees that may be associated with either type of website. Many business owners start with a website from a large provider and often want additional features later on that they will not provide or will only provide for a hefty fee. Unfortunately, if you try to take your website elsewhere for better quality management, there is only so much that can be done until your contract expires.
Ownership
Lastly, determine the importance of website ownership to your business. Many business owners will not receive the rights to their website and are unable to edit or manage the website on their own. This is something you may want to keep in mind for the edit-ability of your website and is indicative of the quality of services you will likely receive.
No matter which form you feel is best for your business' website, consider the importance your site will have in your business' success. If you are interested in creating a website or updating your current website, contact The Public Relations and Marketing Group at info@theprmg.com or 1-855-PRMG-123 for a free consultation.