Middle Island, New York [March 1, 2020] — After many weeks of research and design, 200 teams competed in seven Qualifiers for an opportunity to be one of 39 teams to participate in the Championship Tournament. More than 1,000 spectators cheered on approximately 400 contestants, ages 9 to16 (ages vary by country), at the annual FIRST® LEGO® League Long Island Championship at Longwood High School. Team #684 "STOBOR," from Syosset, won the first-place Champion's Award. The second-place Champion's Award went to Team #38503 "Techno Queens," from Jericho. The top teams won by embodying the program's Core Values of teamwork and mutual respect while achieving excellence and innovation in both a robot game and an innovative project.
Winning the local Alliance award were Team #6435 "Fire Dragons" from Rocky Point and Team #48598 "Team D'Carma" from Manhasset with a score of 420 points.
FIRST LEGO League is an international program for 9- to 16-year-old children (ages vary by country) created in a partnership between FIRST and the LEGO Group in 1998 to get children excited about science and technology — and teach them valuable career and life skills. Children work alongside adult Mentors to design, build, and program autonomous robots using LEGO® MINDSTORMS® and create an innovative solution to a problem as part of their research project.
This year's Challenge — CITY SHAPER(SM) — called for teams to research and present their own creative solutions to the real-world topic: sustainability in their towns.
The competition is judged in three areas: Project; Robot Design, and Core Values, which embody aspects of teamwork and good sportsmanship. Top robot game scores are also honored.
Listed below are the awards that were presented during the SBPLI FIRST LEGO League Long Island Championship on March 1: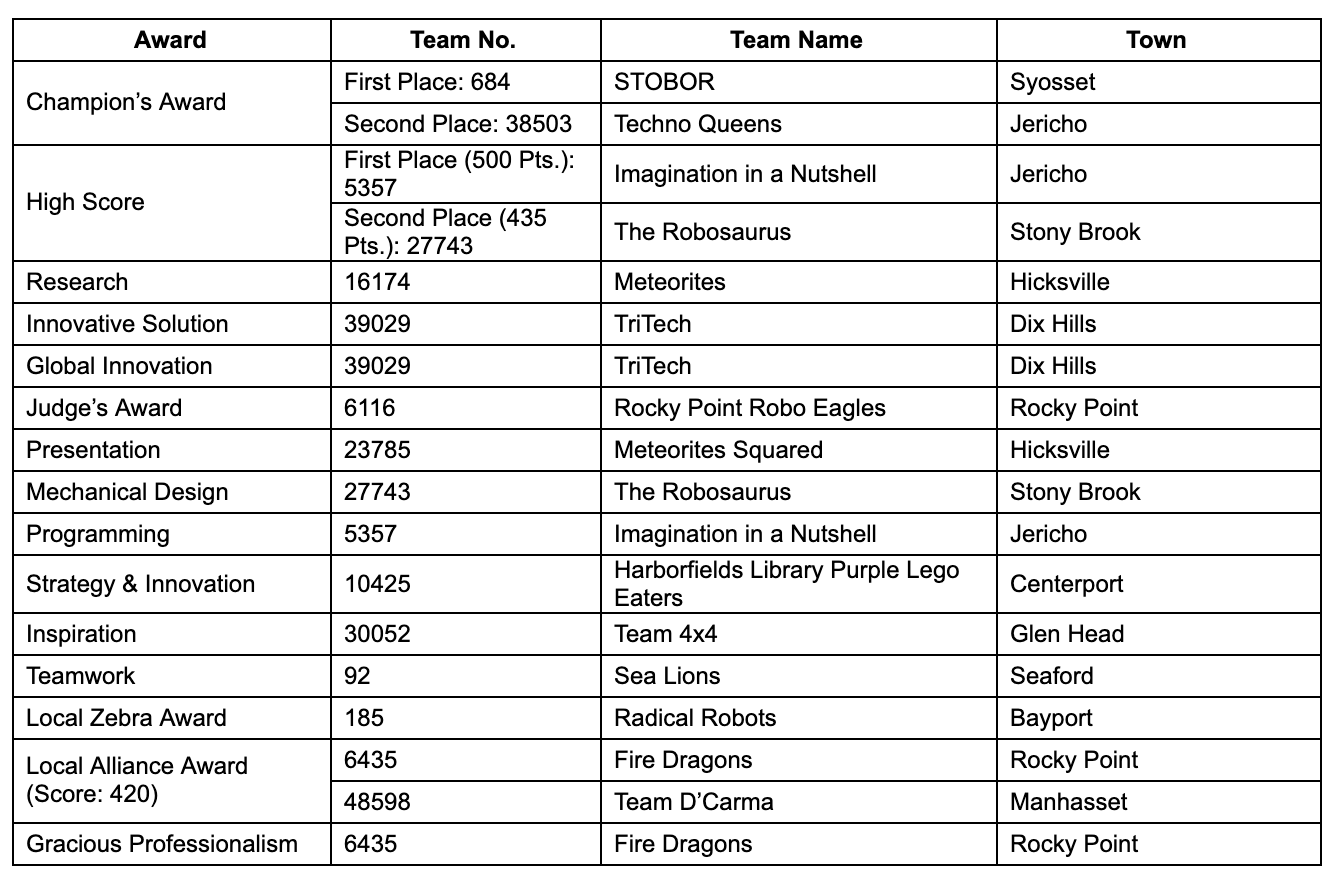 For more information on SBPLI or FIRST LEGO League, please visit www.sbpli-lifirst.org.