Gershow Recycling recently donated the use of a wrecked car in support of the Town of Huntington's Anti-Drunk and Distracted Driving Campaign. Presented by Mark Cuthbertson, Councilman, Town of Huntington, and the Huntington Town Board, the program reminds residents of the dangers of drunk or distracted driving during the holidays.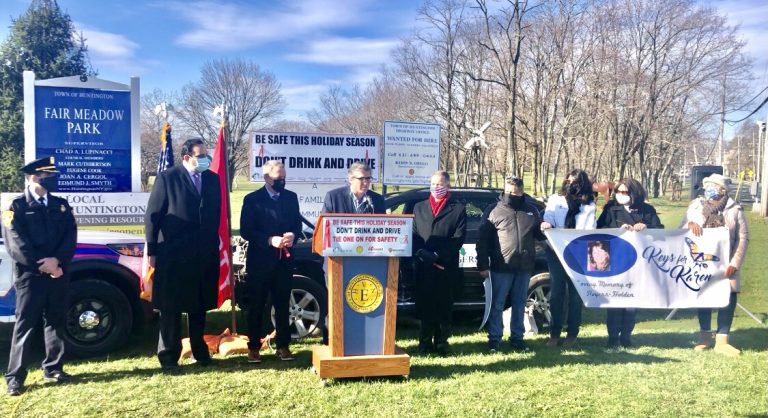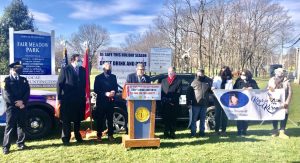 Kevin Gershowitz, President, Gershow Recycling, took part in a press conference that was held on December 7, along with local elected officials, Mothers Against Drunk Driving (MADD), law enforcement personnel and Keys for Karen, a nonprofit organization formed by a local family who lost a loved one to a drunk driver.
Mr. Gershowitz thanked the Town, MADD and Keys for Karen for their public awareness efforts and noted that Gershow takes in thousands of vehicles that were involved in serious accidents each year, some of which were the result of drunk driving. "There's no reason to drink and drive," he said. "We have too many conveniences today with our cell phones and apps. If you don't want to hurt yourself or, worse than that, if you don't want to hurt someone else, don't drink and drive."
Gershow has nine locations in Brooklyn, New Hyde Park, Valley Stream, Freeport, Lindenhurst, Huntington Station, Bay Shore, Medford and Riverhead. For more information, call (631) 289-6188 or visit www.gershow.com/.
###
Started in 1964 by Sam Gershowitz, Gershow Recycling began as a two man operation with a tractor and trailer, a boom truck and the first portable car flattener. Now with the second generation carrying on the legacy, Gershow generates over 750 jobs, contributing millions of dollars to the local economy, while helping to preserve Long Island's environment. Gershow Recycling takes aluminum, brass, copper, steel, cast iron, appliances, cars and vehicles. In keeping with its philosophy of "Conserving the Future by Recycling the Past," Gershow Recycling purchases scrap metal that would have otherwise wound up in local landfills, and turns them into high-quality scrap products for recycling. The company produces both ferrous and non-ferrous products.