Contrasts Town's Aaa Bond Rating with County's Junk Bond Status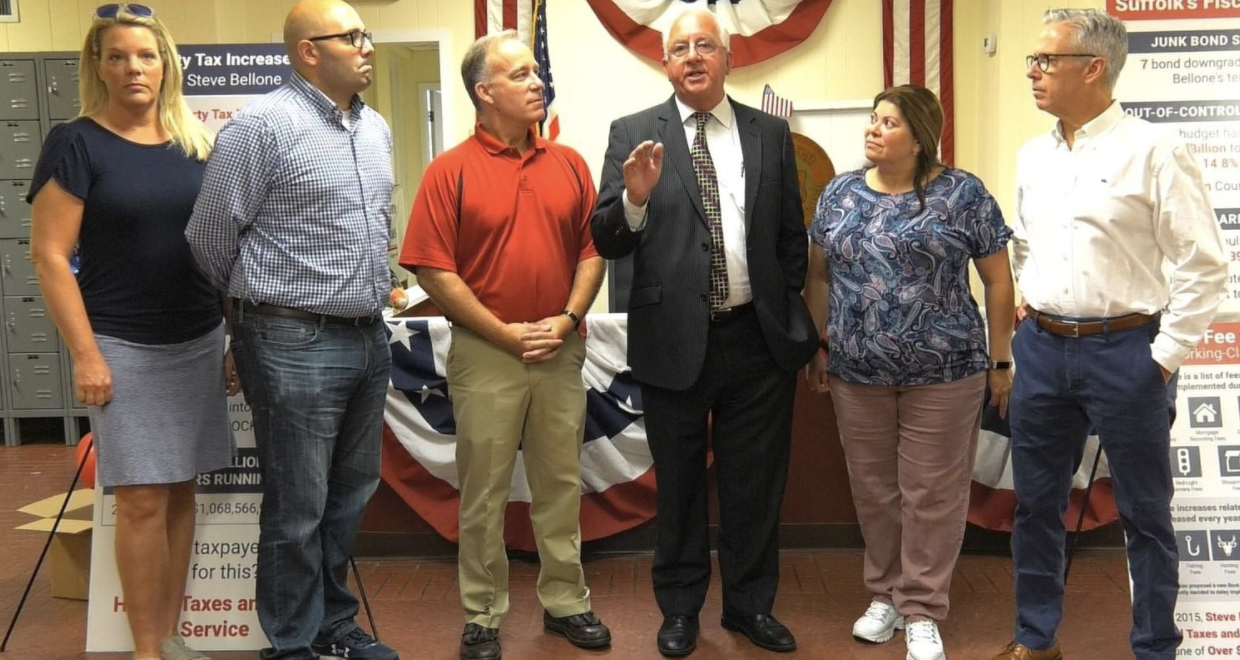 Ronkonkoma, NY — On September 28, John M. Kennedy, Candidate, Suffolk County Executive, was joined by local elected officials and residents at a press conference at the Islip Town Republican Committee headquarters in Bay Shore, in the next stop of his "Fiscal Reality Tour" as part of his campaign to #SaveSuffolk.
Mr. Kennedy explained that, contrary to claims made by the County Executive, taxpayers have been burdened by enormous tax and fee increases under Steve Bellone, while, at the same time, the County has experienced seven bond downgrades and a fiscal crisis whereby it barely meets its obligation week by week.
Mr. Bellone's out-of-control spending has resulted in bloated payrolls and budgets. Despite the fact that the County's workforce has been reduced by nearly 1,000 workers, payroll has increased by over $100 million. At the same time, the budget has risen from $2.7 billion to $3.1 billion — an increase of almost 15%.
Poor fiscal management has driven enormous tax and fee increases. The property tax levy has increased from $532,765,964 in 2012 to $652,108,097 in 2019. That is an increase of $119,342,129, meaning that homeowners have seen a property tax increase of 22.4% over that time.
In addition, Suffolk taxpayers have been hit with across-the-board fee increases. These include the tax map verification fee, mortgage recording fee, residential/commercial burglar alarm fee, red-light camera fee, shopping bag fee, pet grooming fee and Department of Motor Vehicles registration fee. In addition, Mr. Bellone has hiked county park use fees every year since 2015 for camping, fishing, hunting, parking, group events and recreational permits. This disproportionately affects working-class Suffolk residents, including first-time homebuyers and those who rely on parks for recreational opportunities. In total, the Bellone administration has raised taxes and fees to the tune of $200 million.
During the press conference, Mr. Kennedy contrasted Islip's fiscal situation with Suffolk County's. As Town Supervisor, Angie Carpenter has been able to minimize Islip's debt, resulting in a bond rating of Aaa for four consecutive years. But under Steve Bellone's leadership, Suffolk's debt has reached almost $900 billion, causing the county to drift into a fiscal crisis and having its bond rating downgraded to Baa2, a rating which is considered "junk."
"I wish to commend Supervisor Carpenter and the Town Board members for constantly bringing its residents a budget that is fiscally responsible," Mr. Kennedy said. "Because they have kept debt low, Islip's credit rating has been stellar for the past four years, which is far more than I can say for Mr. Bellone, whose seven years of out-of-control spending has led Suffolk into a fiscal crisis."
Also exacerbating Suffolk's fiscal crisis is the population reduction under Steve Bellone. The county's overall population has shrunk by 16,396 in the past seven years, leaving fewer taxpayers to bear a higher tax burden. Favorable Industrial Development Agency (IDA) benefits have further reduced the county's tax base.
"When I took office, I inherited a budget deficit with a process that was lacking transparency," Supervisor Carpenter said. "I have gotten Islip's finances back in order as a result of direct oversight with monthly budget and revenue projections, increased efficiencies with major departmental consolidation, posting full budget documents on the Town's website — all leading to a bond rating upgrade to Aaa, the highest a municipality can achieve, reaffirmed four times, saving taxpayer dollars."
"We need John Kennedy because he understands the importance of a high bond rating," said Steve Flotteron, Suffolk County Legislator. "It's very important to have a high bond rating because it costs you less money to borrow. Bellone has more than doubled our debt. Right now, we are in a sinking ship as he incurs more debt and he's lowering our bond rating, which is costing us more money to borrow to cover our debt. It's paying your credit card to use your credit card to pay your mortgage. That's not how to run your household and it's not the way to run the county."
"The fiscal reality in Suffolk County is dismal, thanks to the mismanagement of County Executive Steve Bellone and his administration," said Tom Cilmi, Suffolk County Legislator. "He has squandered millions of dollars in wasteful spending, and we need somebody to put the county back on the right track. That somebody is John Kennedy."
For more information, visit www.johnkennedyforsuffolk.com or follow #SaveSuffolk.