On April 1, Ross Ain, President of Caithness Long Island, LLC, and Bill Wareham, Plant Manager, Siemens Energy, which manages the Caithness Long Island Energy Center, hosted a presentation and guided tour of the state-of-the-art natural gas-fired power plant. During the presentation, they took turns discussing the plant's technology upgrades, efficiency and emissions.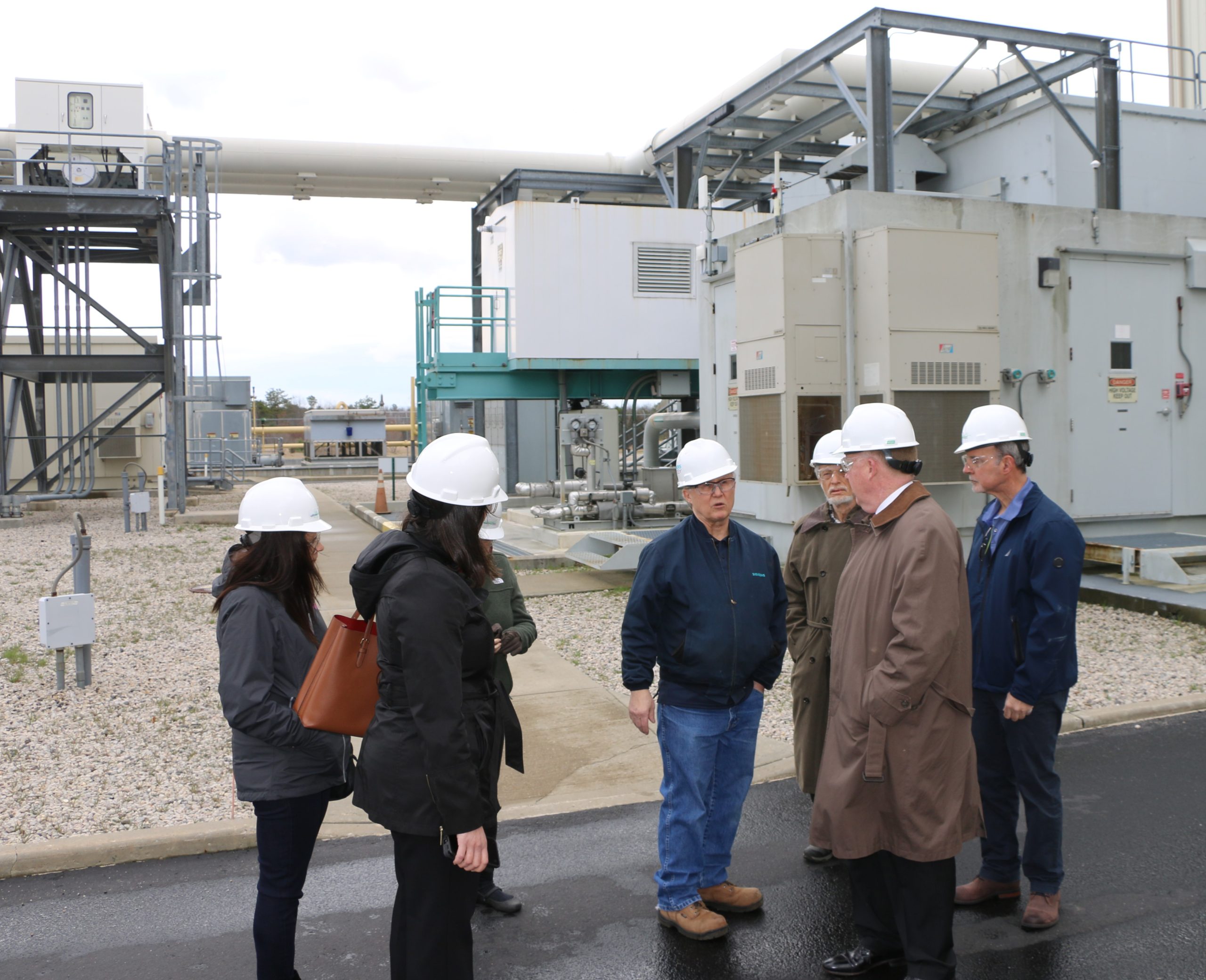 In 2003, the Long Island Power Authority (LIPA) issued a Request for Proposal to provide power for its customers. Two years later, Caithness was chosen. Construction of the 350-megawatt plant began in 2007 and came online in 2009.
"Thanks to advances in power generation, we are able to produce more energy with fewer greenhouse gas emissions than a comparable plant utilizing outdated technology," Mr. Ain said.
Caithness currently has a 20-year agreement with LIPA to provide energy to its customers. "We guarantee availability and efficiency," Mr. Ain said, adding that, between 2009 and 2021, LIPA customers saved $426 million in fuel and other costs. Further, Caithness reduced CO2 emissions by 440,000 tons a year — a reduction of 36%.
The Yaphank plant generates 21% of the electricity on Long Island. The plant features an air-cooled condenser that uses less than 20 gallons of water per minute — far less than what other power plants on Long Island use. "That is because we are the most efficient, cleanest plant and we operate around the clock since it is the most efficient plant of its kind on Long Island," Mr. Ain said. "We also have an excellent environmental record, operating well below strict permit limits. We are also very safety-conscious; we have never had an accident."
The new gas turbines are very fast, Mr. Wareham said, in that they can start up and provide full power within half an hour. The plant is operationally flexible and can run on natural gas or distillate fuel oil.
The plant currently has a roster of 19 full-time employees. It is set 100 feet above sea level, adding a high level of storm protection against flooding, according to Mr. Ain. There is also a large buffer zone that separates Caithness from the residential areas which are approximately one-half mile away. "There are no wetlands here and there are no parks, rivers or endangered species on the premises," he said.
In addition, Mr. Ain said, Caithness gives back to the community. Each year, the power producer gives out $25,000 in scholarships to students from Patchogue-Medford, Bellport and Longwood High Schools, and supports several community-based groups, including the Boys and Girls Club.
After the presentation, LIMBA members took a tour of the facility.
For more information about upcoming LIMBA programs, visit https://limba.net/.
###
* Photo is attached.
About LIMBA
Since 1968, LIMBA (Long Island Metro Business Action) has been Long Island's catalyst for economic investment and improvement, sponsoring lively breakfast forums featuring Long Island business activists and government officials. Its mission is to promote and address issues that affect the quality of life on Long Island. For more information, call (631) 757-1698 or visit www.limba.net.