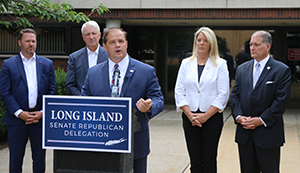 PATCHOGUE, NY — New York State Senate Republican Leader Rob Ortt today was joined by Senators Phil Boyle, Alexis Weik, and Mario Mattera, as well as Suffolk County District Attorney Candidate Ray Tierney to blast the rise in violent crime under One-Party Rule, and offer commonsense solutions to reverse the declining quality of life in communities throughout the state. The Senators joined DA candidate Tierney in Suffolk County, which has seen one of its most deadly months on record in July with nine murders, including a gang-related triple homicide last week, as well as a recent gang-related broad daylight murder in downtown Port Jefferson.
"Since 2019, countless New Yorkers have been needlessly and repeatedly victimized by One-Party Rule's failed criminal justice 'reforms' and rhetoric. Governor Cuomo and his Democrat allies in the Legislature have made it their priority to reward violent criminals and punish our brave members of law enforcement. What have their extreme pro-criminal, anti-police policies and politics gotten us? More shootings. More assaults. Even more hate crimes. The numbers don't lie — under all-Democrat control, Long Island has become less safe. My Republican colleagues and I are proud to be strong voices against this madness. To save our state, it's time to restore public safety and common sense," said Senate Republican Leader Ortt.
"Senate Democrats' so-called bail reform has been a total disaster. Violent criminals and predators are being turned loose and this has created a public safety nightmare. It's time for common sense to make a comeback in the Empire State and that starts by working with our brave law enforcement officers to support their efforts to keep our families safe. We cannot let radical New York City progressives defund our local police and give violent criminals a get-out-of-jail free card with their so-called elder parole scheme," said Senator Pam Helming, Chairwoman of the Senate Republican Campaign Committee.
"The numbers don't lie. We are experiencing unprecedented increases in violent crimes throughout New York State. The Far-Left Democrats who control Albany will never admit that the cause of these increases is their so-called Bail 'Reform' Laws, so Senator Ortt's call for a professional study is exactly what is needed to prove what many of us already know," said Senator Phil Boyle.
"One-party control in Albany has continued to advance a pro-criminal, anti-law enforcement and anti-victim agenda, which has made our communities less safe. I am proud to stand with my Senate Republican colleagues in advancing several packages of bills that support law enforcement, reform our state's parole board, and provide justice to victims," said Senator Alexis Weik.
"The continuing efforts of Democrats to put the rights of criminals ahead of our families are clearly endangering our communities. From releasing criminals to taking tools away from our police, this idealistic crusade has led to an unmistakable increase in crime and we stand together today to offer real solutions that will protect our residents and the future of our state," said Senator Mario Mattera.
"I am confident that, once completed, this study will show what our men and women in law enforcement already know: New York's streets and communities are more dangerous and the job of police officer is more difficult because of the reckless and radical policies passed by Senate Democrats. We must repeal cashless bail and stop further pro-crime policies from becoming law if we are to stem the tide of rising lawlessness and make New York a safer home for everyone," said Senator Anthony Palumbo. 
"We need to reverse the effects bail reform and onerous discovery rules are having on the criminal justice system, but we also need to do a better job prosecuting gun-related crimes. Recent events and statistics show that violent crime has come to a community near you. The daylight shootings that happened here in Port Jefferson in March and the triple homicide in Farmingville last Friday are symbolic of how crime rates have skyrocketed throughout the State and Suffolk County. The residents of Suffolk should be worried," said Ray Tierney, Republican Candidate for Suffolk County District Attorney.
Last week, Republican Leader Ortt sent a letter to the Office of Court Administration and New York State Division of Criminal Justice Services requesting a thorough and transparent analysis of data regarding bail reform.
The timing of the recent surge in shootings and violent crime directly correlates with the passage of bail and other criminal justice "reforms" in 2019. Since the start of 2020, shootings, murders, assaults and other violent crimes have skyrocketed all across the state. In 2020, the homicide rate rose by 55.56 percent in Nassau County and 25 percent in Suffolk County over 2019.
Law enforcement experts all across New York have almost unanimously condemned bail reform as a cause of rising violent crime. The NYPD commissioner, Monroe County law enforcement officials, and even Albany County's Democratic District Attorney have all linked bail reform with rising violent crime in communities all across the state.
Other "reforms" implemented in recent years include:
●      The disbanding of the NYPD's "anti-crime" unit;
●      A billion-dollar cut to New York City police funding, among other "defund the police" actions taken throughout the state;
●      "Progressive" District Attorneys refusing to prosecute quality-of-life offenses such as public urination;
●      An overall relaxation on enforcing prostitution and street vending laws in major metro areas; and
●      An overall pro-criminal, anti-police climate fostered under all-Democrat rule.
Suffolk District Attorney candidate Ray Tierney, a career prosecutor with 26 years of experience, described how at the same time of this month's shootings, The Suffolk DA's office had allowed over 100 criminals who were arrested, but not indicted, for illegal gun possession to go free. He also discussed the need for leadership in the District Attorney's office to coordinate the County's anti-gang efforts. 
Senate Republicans this year have offered an alternative criminal justice agenda that is truly geared towards restoring commonsense, public safety and putting law-abiding citizens first in New York. This initiative includes:
●      The "Protect Those Who Protect Us" package unveiled in May;
●      A Parole Reform package of bills unveiled last month; and
●      The "Victims' Justice Agenda" unveiled earlier this month.
"One-Party Rule has been a one-way ticket to a public safety crisis. Democrats like to say they speak for impoverished and disadvantaged communities with their policies and political positions — but, far too often, these communities are made victims by their failed "reforms" and lip service. The results speak for themselves. It's past time for voters to send a message to politicians who would sacrifice public safety in the name of 'wokeness,'" concluded Leader Ortt.
For more information, visit www.raytierneyforda.com.