Comptroller's Report Reveals County is on the Brink of Financial Disaster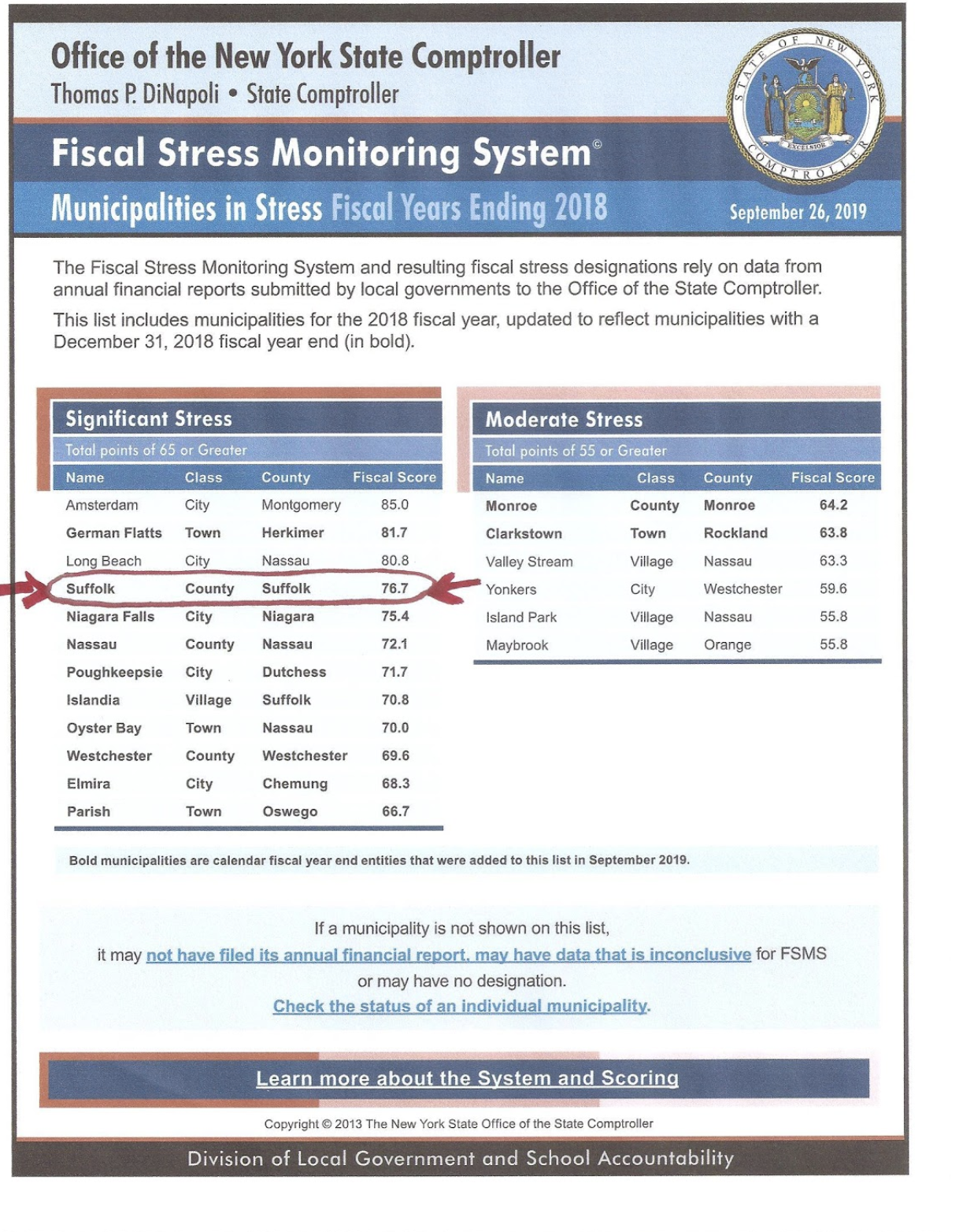 A recent report from New York State Comptroller Thomas DiNapoli's office revealed that, for the second year in a row, Suffolk County has been declared the most fiscally stressed county in the state, ahead of Nassau and Westchester Counties. John Kennedy, Candidate, Suffolk County Executive, said these findings reveal what was known all along: that Suffolk County is in a fiscal crisis.
The state Comptroller's report showed that Suffolk County received a fiscal stress score of 76.7 (a score of 65 or above means "significant" fiscal stress). According to data from the report, not only did the total fund balance in the general fund show a negative balance over the past three years, that figure more than tripled from -$27,627,301 in 2016 to -$91,917,594 in 2018. The report also showed that, from 2016 to 2018, expenditures from its combined funds outpaced revenues.
In addition, Suffolk received a fiscal stress score of 30.0 for its environmental indicators. This means that Suffolk is "susceptible" to environmental stress. Some of the more alarming statistics based on this score include, from 2017 to 2018, Suffolk's population declined by a total of 1.28%, home values decreased by 12.52% and more than 17.5% of the population rely on state and federal aid just to live here.
For seven years, Steve Bellone's policies have spelled disaster for Suffolk residents. He has incurred a debt of almost $900 million, added $200 million in new taxes and fees, raised the property tax levy by 22.4% and increased the budget by almost 15%. Meanwhile, Suffolk has declared seven fiscal emergencies, faced seven bond downgrades and saw more than 16,000 residents move out of the county.
"When a Democrat in the New York State Comptroller's office says that Suffolk County under a Democrat county executive is under severe fiscal stress, that is saying something," Mr. Kennedy says. "Enough is enough. We must end the tax-and-spend policies of Steve Bellone that have created this fiscal crisis and hurt Suffolk County taxpayers. I'm running for County Executive to clean up this mess and put Suffolk County back on the path to economic prosperity. The county's finances are on the brink of disaster and I worry what effect an economic slowdown will cause."
For more information, visit www.johnkennedyforsuffolk.com or follow #SaveSuffolk.