First Live Event Held in Two Years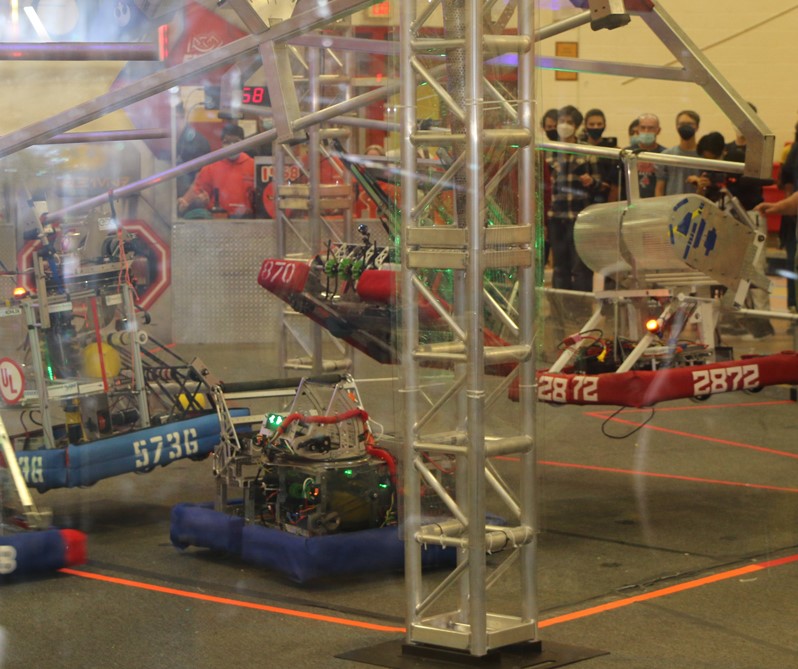 [KINGS PARK, NEW YORK] — On November 6, fourteen teams from Long Island competed in the Ninth Annual Half Hollow Hills Invitational at Half Hollow Hills West High School in Dix Hills. It was the first time in two years that the event was held in person. The Invitational was presented by the Half Hollow Hills School District, with support from School-Business Partnerships of Long Island, Inc. (SBPLI) DBA FIRST® (For Inspiration and Recognition of Science and Technology) Long Island.
This year's winning alliance consisted of the following teams: Team #870 "Southold Team RICE" from Southold High School; Team #2872 "Cybercats" from The Wheatley School; and Team #2869 "Regal Eagles" from Bethpage High School. Runners-up included Team #3950 "RoboGym Robotics" from North Shore High School; Team #5736 "Kingsmen" from Kings Park High School; and Team #1468 "Hicksville J-Birds" from Hicksville High School.
This year's challenge was INFINITE RECHARGESM, in which both alliances have two minutes and 15 seconds to protect FIRST City from approaching asteroids caused by a distant skirmish in outer space. Alliances scored points by scoring Power Cells in the Power Port, completing both Rotation and Position Control and getting the Generator Switch to the level position. Additional points were scored by hanging the robot from the Generator Switch within the final 30 seconds of the match.
For more information, visit www.sbpli-lifirst.org.
###
About FIRST® 
Accomplished inventor Dean Kamen founded FIRST® (For Inspiration and Recognition of Science and Technology) in 1989 to inspire an appreciation of science and technology in young people. Based in Manchester, N.H., FIRST designs accessible, innovative programs to build self-confidence, knowledge, and life skills while motivating young people to pursue opportunities in science, technology, and engineering. With support from over 200 of the Fortune 500 companies and more than $50 million in college scholarships, the not-for-profit organization hosts the FIRST® Robotics Competition for students in Grades 9-12; FIRST® Tech Challenge for Grades 7-12; and FIRST® LEGO® League for Grades PreK-8. Gracious Professionalism® is a way of doing things that encourages high-quality work, emphasizes the value of others, and respects individuals and the community. To learn more about FIRST, go to www.firstinspires.org
About School-Business Partnerships of Long Island, Inc.
School-Business Partnerships of Long Island, Inc. (SBPLI) DBA FIRST® Long Island is a fully volunteer-run 501(c)(3) non-profit organization founded in 1984 by Fred Breithut with the goal of developing partnerships between local high schools and businesses. His goal was to provide students with practical experience and curriculum development, while helping the business community develop its future workforce, which resulted in the formation of over 100 partnerships. In 1999, SBPLI brought the FIRST® (For Inspiration and Recognition of Science and Technology) to Long Island, which featured just eight FIRST® Robotics Competition high school teams. Since then, the Long Island Regional FIRST® Robotics Competition has grown to two events with over 80 teams competing each year. SBPLI also hosts Long Island's annual FIRST® LEGO League Qualifying and Championship Tournaments and the FIRST® LEGO League Junior Expos, in which over 2,000 elementary and middle school students from Nassau and Suffolk Counties take part each year. In 2016, SBPLI added the FIRST® Tech Challenge to its roster of programs. For more information about the programs, or to learn how to become a sponsor, visit www.sbpli-lifirst.org.