Facebook is the most popular and widely used social media outlet. Facebook users create profiles, interact with others, become fans of business pages and join in common interest groups. With more than 400 million members, Facebook is an excellent marketing and advertising tool, especially for B2C companies. Every business and non-profit with a customer base needs to have a presence on Facebook. Facebook offers exposure, advertising opportunities and an outlet for customer relations. It is essential for businesses to create an active and compelling presence on Facebook to enhance any social media marketing strategy.
Create a Profile — Before you can create a fan page or group, you must have a personalized Facebook profile. When creating your personal account, you may choose to use it strictly for personal use or also for your business networking. Either way, your Facebook profile should be professional. Update your privacy settings to control who can see what information and never post anything that you wouldn't want everyone to see. Despite its casual feel, posting on social networking sites should be taken very seriously. Remember, what you post on Facebook will reflect your business and professional image.
Create a Fan Page — Once you have a personal profile, with your name and personal information, you may create a business fan page. Facebook fan pages are specifically for promoting your business. Businesses will benefit greatly from creating and maintaining a fan page, where they will be able to communicate with their target audience and enormously increase their Web visibility. When Facebook users "like" your business page, their friends will see an update on their homepage. This exposure may influence a greater audience to learn more about your organization. To gain more fans, consider offering an incentive for those who like your page. Giving exclusive deals to your Facebook fans will encourage them to follow your company and recommend you to others. It is now very easy for businesses to offer coupons to your Facebook fans with the application, Easypromos. The promotion will be introduced on your fan page. For example, "Receive a 10% coupon for becoming a fan of our business!" When the user clicks to become a fan, they will be granted access to the coupon. Keeping track of how many Facebook discount codes have been redeemed is a useful tool for monitoring how beneficial your Facebook marketing efforts are. Fan pages also give you the option to send mass emails to all of your fans to promote products, services, events and ongoing promotions.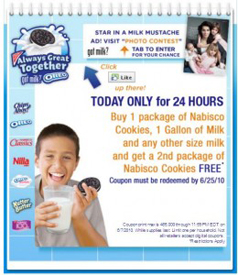 Create a Group Page — Creating a Facebook group page for your organization is also a useful feature. While they are not necessary to your Facebook marketing success, groups are another way for businesses to create an online community to keep their audience connected. Compared to fan pages, groups are typically for more in-depth communication around a certain subject. Engage in discussions about your products, industry and organization. Facebook groups don't require nearly as much time as fan pages. While it is good to create a group, don't invest all of your effort in this area.
Add Multimedia — Facebook is a great place to share multimedia. Everyone takes in information differently and many people are visual learners. Post photos that resonate with your business such as your location, building, events, staff, products and more. Videos are also important to show your audience what kind of company you are and how you can benefit them. Share videos of successful customer stories, interviews with experts in your industry, educational or how-to videos and features on business accomplishments.
Expand Your Network — For proactive social media networking purposes, it is crucial to grow your fan base and make personal connections with your audience. Seek out personal contacts, customers, potential customers, influential people in your industry and so forth. To find new people to add, use the "Friend Finder," invite friends by email and join in similar groups and fan pages. When sending requests, always add a personal message to let the user know who you are and why you would like to be their Facebook friend.
Interact — Communication and interaction are keys to your business' Facebook success. Always encourage feedback on your posts. Address every comment, concern and message you receive in a timely and thoughtful manner. Promoting your company as a client-friendly organization will boost your online reputation and encourage others to speak favorably about your business to their connections. To keep your audience informed, update your status each time your company has an event, shares industry news, sends an e-newsletter, launches a product or has received press coverage. Produce fresh, well-written and relevant content for your fan page especially. All fan page content gets indexed by Google so it should be strong and relevant to your target audience.
Create Events — If your company is having an event or promotion, create a Facebook event and invite all of your friends and fans to attend. Include all contact and event information on the page. This is a great way to promote your event and spread exposure. For example, when someone RSVPs to your event, their friends will see an update on their news feed. If you have limited space, indicate that your event is not open to the public and limited to "invite only."
Facebook Advertising — Facebook provides outstanding and effective ad placement. For a detailed account of how Facebook advertising works, see this week's advertising spotlight. Using Facebook fan page ads can help you expand your fan base and ongoing marketing efforts.
Promote Your Facebook Page — Make it easy for your audience to find you. Facebook icons and links should be clear on your business' website, blog, email signature, business cards and in any correspondence with customers and potential customers. It is also important to advertise any special discounts that your audience will receive for becoming a fan of your business' fan page.
Stay Active — Most importantly, stay active in your Facebook marketing efforts. Your success requires regular updates with fresh content, photos and interaction. While you cannot control conversation on social media sites, you can enhance it. Participate in discussions, share strong content, respond to comments and concerns and you will be rewarded.
Visit The Public Relations and Marketing Group's website for examples of social media ads performed on behalf of its clients.