For the first time in history, the final will air on TBS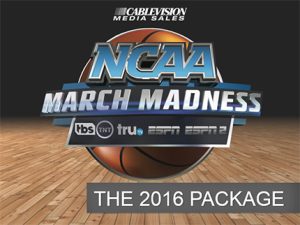 There's no better time to advertise than during March Madness 2016. For the first time in tournament history, the game will air on basic cable, meaning your ads will be exposed to a wider audience than ever before!
NCAA Basketball in March is like no other sporting event. Hopeful teams compete in a dynamic month-long competition to see who is the best of the best in the NCAA. Advertising during March Madness is a great opportunity to give your business exposure to a wide audience as viewers tune in to watch some of the greatest teams in the country go head-to-head. Catch the intense action from the Conference Championships all the way to the National Championship Game.
Cablevision is offering 30-second spots that will feature your company during primetime and daytime showings. Act now to claim your in-game spot; there are only 46 total spots and they're going quick!
The First Round NCAA Tournament Games will be shown during Primetime on March 15 and 16 on TRUtv, with the Second Round Prime and Day available on March 17 and 18 on TBS, TNT, and TRUtv, and the Third Round Prime and Day available on March 19 and 20 on TBS, TNT, and TRUtv. The Regional Semifinal (Sweet Sixteen) Games' advertising spots will be during Primetime on Thursday and Friday, March 24 and 25, on TBS. There are two spots available during the Elite Eight Games, Primetime Saturday and Sunday, March 26 and 27 on TBS, and two available during the National Semifinal (Final Four) Games, Primetime Saturday, April 2 on TBS. Act now to advertise during the 16th National Championship Game on Monday, April 4 on TBS.
One hundred and eighty Client Commercial spots are available on ESPN News, ESPNU, NBCSN, and FS1, March 14 through 16 (Monday through Sunday) from 6 a.m. – 12 a.m. (midnight).
This package is available in North Nassau County for $4,999, South Nassau County for $9,199, Huntington for $2,769, Babylon for $3,159, Hauppauge for $7,939, Brookhaven for $4,069, Riverhead for $3,679 and Brooklyn for $8,219. If you select more than one zone at once, you are eligible for a discount.  Take a 2% discount with two zones, a 4% discount with three zones, a 6% discount with four zones, a 7% discount with five zones or an 8% discount with six, seven or eight zones.  
If you are interested in placing an advertisement or for details regarding rates and pricing, please contact The Public Relations and Marketing Group at 1-855-PRMG-123 or email info@theprmg.com.