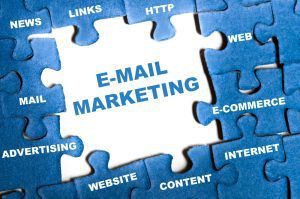 Email marketing (newsletters and promotions) is one of the most powerful and cost effective marketing tools for small to mid-sized businesses.  It provides a good segue to convert leads into sales, and they can be completely customized to strengthen your brand. Here are six ways to maximize your email marketing success:
Experiment to Create a Schedule
In order to find out what days and times are best for your company to send out emails, experiment and create a schedule. Tuesdays, Wednesdays and Thursdays are said to be the best days of the week to send out emails, but see what works best for you!
2. Hire a Designer to Customize your Emails
Graphics are one of the most important parts of an email. Hire a designer to help with customization and branding. This will increase the engagement of recipients, leading them to click on and read through the rest of the email. Our Science of Email Marketing says that 65% of people prefer emails with mostly images.
3. Customize the Content of your Emails
In addition to custom graphics, customizing and personalizing the written content in an email is just as important. Our Science of Email Marketing also says that the chance of your email being read increases by 14% when it is personalized and addressed to each individual person. Using a catchy subject line may also increase the chances of your email being read.
4. Incorporate Calls to Action
Offer something in your email, like a download, a coupon or a free consultation. This will entice your audience to take action in response to your email. For example, add "Download our free coupon today!" or "Contact for a free consultation!" to your email. Also, use phrases like "for a limited time only," and "offer ends July 1," to create a sense of urgency.
5. Track your Results
Using an email marketing software, such as Streamsend or Constant Contact, can help you see how many people are actually reading and clicking through your email. Tracking your results is a way to see if your emails are effecting your subscribers in a positive or negative way.
Monitoring click through rates and conversion rates are the two most accurate ways to track results. The higher click through and conversion rates you have, the more relevant your email was to the audience.
6. Use a CRM
Consider using a CRM  (for more information read A CRM Overview: What is It? And Do I Need It?) to pull in your data- specifically CRMs are a great way to store information on prospects.
With the correct programming, CRMs can take the contacts you make on your website, on social media, via email etc. and import them to a central location where you can effectively cultivate relationships, and ensure that your sales cycle is efficiently managed.