Building an online presence is crucial to the success of any contemporary business. From a website to social media, the modern business must create a solid web presence to keep up with today's most common method of new business acquisition: the Internet.
Search engines are certainly the most popular method for potential new customers to find local businesses, and Google is chief among them. Millions of business owners now look to Google My Business, the analytics and social media software developed to influence Google search results, to attract and retain customers.
Google My Business aims to frequently improve the properties it offers to users, and has continued its usefulness with several recent developments, including new insights, accelerated mobile pages (AMPs), and an "explore interests" feature, among others.
Key features of the new insights tool tell a business owner whether his or her listing is being viewed through Google Search or Google Maps and whether customers view the listing by searching for the business name (specific search) or by a category or related keyword (general search). An additional update removes Google Plus statistics from the insights panels.
Accelerated mobile pages (AMPs) optimize web content for mobile devices. They remove unnecessary resources, which in turn allows a mobile browser to provide a more fluid user experience. Google has announced that AMPs will be immigrating to Google's main search results, thus increasing a company's chances of acquiring organic traffic (versus traffic acquired from paid advertising).
Google's projected "Explore Interests" feature would allow Google users to browse categories which appeal to them, such as music, shopping, food and drink, or sports. This feature can help drive more traffic to your company's website by offering readers the relevant content in which they show interest.
A screenshot posted by the Android Police in its blog shows the test stage of the new feature: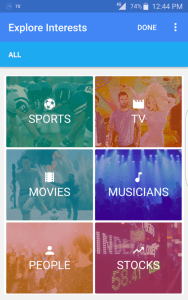 Search engines are an essential tool for businesses in today's modern marketplace, and utilizing Google as a means to increase traffic, and therefore sales, is a good business practice. Although a well-rounded web presence is critical for the success of today's business, but it can be overwhelming and sometimes difficult to navigate. The Public Relations and Marketing Group offers expert web development, marketing, advertising, public relations and social media management solutions to help your company compete in a 21st-century marketplace.  To learn more or for a free consultation, please contact us at 631-207-1057, or visit our website at www.theprmg.com.