Order ads to be aired during this season's Mets and Yankees games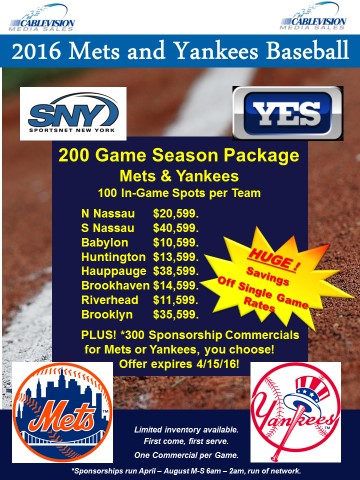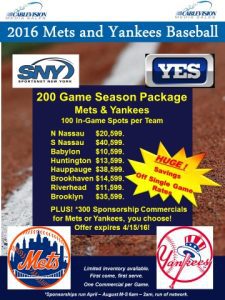 *Act now for $360 per spot (island-wide) throughout the month of April! 
The great American pastime is once again gaining momentum as the 2016 season begins. Advertising during televised baseball games is a great way to give your business exposure to thousands of viewers. Sporting events provide an excellent opportunity to ensure that your target audience is exposed to your commercial, since few people record a sporting event to watch it later and will stay tuned during commercials, so as not to miss the action.
Cablevision is offering Game Season Packages that will feature your company for 100 in-game spots per team. You'll captivate the attention of both Mets and Yankees fans across Long Island and the greater New York City area. Broadcast areas include North Nassau, South Nassau, Babylon, Huntington, Hauppauge, Brookhaven, Riverhead, and Brooklyn. This exciting 200-game season package includes 300 sponsorship commercials for the Mets or the Yankees. Individual games are also available in each zone.
If you are interested in placing an advertisement or for details regarding rates and pricing, please contact The Public Relations and Marketing Group at 1-855-PRMG-123 or email info@theprmg.com.
*Must book spots by April 24th.