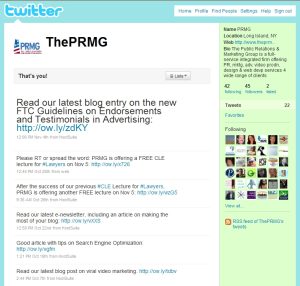 Over the past year, Twitter has emerged as one of the most popular social media tools to be used by individuals and companies, evolving as an important tool in brand marketing. Cable service provider Comcast uses Twitter to engage directly with its customers and solve customer complaints in real time. Besides direct brand engagement and customer service, companies like Dell have directly generated over $3 million in sales through Twitter, offering exclusive discounts and deals to their "followers."
Yet, it's not just the big corporates that can successfully tap into Twitter; small businesses can also utilize this tool to build their brand, increase sales and engage better with their customers. Twitter.com offers this example: When an employee working in the Empire State Building tweeted that he was craving Tasty D-Lite ice cream, Tasty D-Lite offered to deliver it right to his office. Houston-based café Coffee Groundz allows customers to order their beverages and food through Twitter – which the café says has helped it double its customer base and discover a completely new way to engage and build a community of loyal customers.
As a local business, how can you tap into Twitter's potential and achieve the same results? Read on to learn about our tips for understanding Twitter and making the most of your Twitter profile.
What is Twitter?
Twitter is a free "microblogging" service that allows members to send short messages or updates (called "tweets") that are 140 characters or less. The message, which can be sent or viewed from your computer or mobile device, is sent to a person's "followers" or those who are interested in what you may have to say or share. The quick, short updates and the ability to send or receive them anywhere, make Twitter a useful tool for communicating in real time.
How can you use Twitter for your business?
Many organizations use Twitter for customer service and as a quick way to monitor what others are saying about their brand. Besides this, Twitter can be used to stay connected with customers by sharing the latest company news or other information about your products and services and drive traffic to your Web site or blog. It can also be used to obtain real-time feedback or ideas from customers. Since it only consists of short updates, Twitter can often be easier to keep up with, as compared with blogging, and still help you stay connected with current or prospective customers.
Getting started with Twitter
The first step should be to create a Twitter account; signing up for one is quite quick and easy. For more information on how to get started with Twitter, read the Twitter Help Guide. If you are setting up a Twitter account for your business, enter the name of your business or brand in the profile information section with a short description and a link to your Web site.
Select a username also known as a "Twitter handle," which is displayed as a '@' sign followed by your username (For example @ThePRMG.) Usernames are limited to 15 characters, so you may need to abbreviate your company name. Upload a small profile picture, which could be your logo or your own picture (if you want to add a more personal touch to your business profile.)
Next, search for those in your industry or community by entering search keywords in the search box or the "Find People" tab and start following them and their tweets. You can also invite those in your e-mail contact list to connect with you over Twitter. A final word of advice: Don't post too many updates over Twitter and if you are using Twitter for business, have something relevant to say.
Cracking the Twitter Code – Your Guide To Twitter Lingo
•Tweets = Messages/Updates over Twitter
•Twitter Handle = Your unique identity on Twitter – @ followed by your user-name
•Following = When you "follow" someone over Twitter, you add them to your list of followers (think of them as friends you add on Facebook.) Once you follow someone, their tweets appear on your home page.
•Retweet = You can repost or "retweet" any interesting update posted by those you follow that you want to share with others. This can be done by adding the letters RT before the message and giving proper credit to the original author.
•DM = Direct messages sent by one Twitter user directly to another that can only be seen by the recipient (think of it as messages sent to your inbox over Facebook.) DMs also cannot exceed more than 140 characters and you can only DM people who follow you.
•Hashtag = # symbol followed by a specific keyword. This helps you find other users who have used the same word in their tweets, helping you categorize tweets and see what others may be saying about a particular subject.
PRMG is on Twitter! Find us and connect with us here.