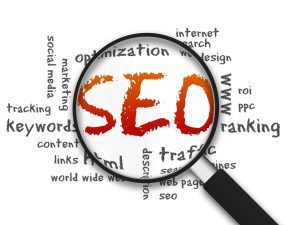 Search engine optimization (SEO) is absolutely critical to modern marketing. With millions of new Web pages flooding the Internet every day, search engines are forced to sift through the clutter and develop a ranking system to prioritize websites. In the most basic sense, SEO is everything that helps your business get ranked higher and receive optimal exposure from these search engines. This is so important because your position on organic search engine results correlates with the number of leads generated by your website. For those who are new to SEO, this article will explain the most important factors that affect these rankings.
Content — Compelling content is perhaps the most important and influential factor of search engine optimization. Every Web page you create should contain unique content that is fresh and relevant to your industry and keywords. Strong content is quickly picked up by the major search engines and pushed to the top of the search results. When writing your Web copy, see if you've answered the needs of your customers or clients. What kind of content are they looking for? Depending on your industry, you may offer guidebooks, downloads, a FAQ section, multimedia and other pages that are of value to your audience. It's also important to ask yourself (even if your content meets the needs of your audience): What makes your website stand out from those of similar organizations? The more valuable and unique your website, the more traffic it will receive. For more information on the importance of content and how you can create better content, please see our article, "Why Quality Content Reigns Supreme."
Your Web Page Must be Crawlable — In order to build traffic, your website must allow search engines to easily "crawl," or access and index, the information on your site. If your content cannot be crawled, it won't be ranked or indexed by search engines. To ensure that your website is crawlable, use search engine-friendly CSS code, include a simple and clean navigation, use text links and incorporate a keyword-rich URL structure. Once your website has been fully optimized, crawled and indexed, it will be much easier to attract organic traffic from Google and other major search engines.
On-page SEO — On-page SEO refers to all of the production requirements on the specific individual pages you are trying to rank. When developing your Web presence, make sure that every page is fully optimized since it's possible that individual pages of your website will rank higher than your homepage. Start out with a strong, well-thought-out design, incorporate a frequent updating strategy and pick a domain name with potential keywords in it. It's also important to name your individual Web pages using keywords. For example: www.yourcompany.com/keyword1-keyword2.html. Use proper programming and avoid "black hat" methods to prevent blacklisting by Google and other search engines. These black hat methods include repeating the keyword in your content too often, having duplicate websites and registering many domains and interlinking them all. For more in-depth information on on-page optimization tips and techniques, please see our article, "On-Page Optimization and Keywords."
Relevance — Your website and individual Web pages must be a close match to the term that is being searched. To boost your site's relevance in the eyes of popular search engines, make sure that every title, header, link, graphic name and page on your website is somehow relevant and connected to your subject and desired keywords.
Off-page SEO — Off-page SEO refers to the external aspects which attribute to rankings, or everything that happens off your website that builds traffic and leads to higher search engine ranking. The most important factors to consider are the external pages linking to your website and the level of authority these pages have. For example, submitting your website to popular Web directories and social bookmarking websites that have high authority will benefit your overall SEO. For more detailed information about off-page optimization and long-term strategies to improve your SEO, please read our article, "No, We Can't Get You Those Results Overnight." An important factor of off-page optimization is the level of authority given to your Web page. The more authority your Web page has, the more likely it will rank high for certain keywords. To maximize your authority, secure as many backlinks as possible from as many high-authority sites as possible. Since authority is an aspect of link-building, you can build authority on the Web by utilizing off-page optimization methods such as submitting your site to Web directories, using social bookmarking websites, blogging regularly and other techniques to engage users with your content and drive traffic and legitimate backlinks to your website.
Link Building — Link building is critical to enhancing your SEO and attracting people to your website. Backlinks are so important to SEO because some major search engines, such as Google, will give more credit to websites that have a high number of quality backlinks. This doesn't mean buying links or using link farms — backlinks should only be coming from credible sources. For example, backlinks from websites such as Google, YouTube and free submission websites are given more authority and link value. The four major factors that affect link value are:

Whether It Is a No-Follow or Do-Follow Link — Focus on obtaining do-follow links, which contain a special HTML Markup that notifies the major search engines to follow the destination inside the link. Always avoid link farms since these can actually hurt your search engine ranking.
The Authority of the Page Your Link Appears On — The higher the authority of the page your link appears on, the more SEO credit your backlink will hold.
The Number of Other Links on the Page Linking to You — The more links on one page, the less SEO credit each link possesses.
The Anchor Text of a Link — Links that have desired keywords in the anchor text (the clickable text in a hyperlink) are the most valuable to you, in terms of ranking for those keywords.
For more information, please contact The Public Relations and Marketing Group at (631) 207-1057 or johnzaher@theprmg.com. You can also visit our blog for more valuable articles, advertising spotlights and more.