Social media can be a great way to take your message directly to your target audience. Using various social media tools, you can build your online profile and reputation, create more backlinks and drive people back to your Web site.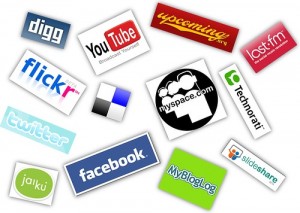 Below are the various tools PRMG uses to get clients maximum exposure on the Web:
Blogs: Blogs are Web journals that contain opinions on different subjects. Often described as the "front door" to social media, the authors of blogs can read, comment and exchange links on other blogs. Since blogs can be updated more frequently, search engines looking for fresh content will rank it higher and make it more searchable.
Besides this, blogs can be a great way for you to build your organization's reputation, showcase its expertise, highlight a product or service, and help improve your Search Engine Optimization by drawing audiences back to your website and including backlinks to internal pages in blog entries. They also provide a more personal way of communicating with your customers or other target audiences, giving you an opportunity to obtain constant feedback from them.
Social Networking: Social networking sites operate on the simple premise of building a profile and connecting, interacting and sharing information with "friends" over the network.
Facebook, which has more than 200 million users worldwide, allows you to build your own business fan page and create your own targeted ads, applications or platforms, which can serve as a great marketing tool. Using Facebook, you can share links, latest company news, start discussions, list events and post videos and pictures.
LinkedIn, another popular site, is particularly known for professional networking, where you can create a profile, and also display recommendations or testimonials from clients or former employers, ask and answer questions on business-related topics and create or join a professional networking group.
Microblogs: Twitter, the most popular microblogging tool, is a free service that allows members to send short messages or updates that are 140 characters or less. The message is sent to people's "followers" or people who are interested in what the person has to say or share. Twitter can be a useful tool to drive people to your blog, Web site or Facebook profile by posting a URL every time you update them or want to inform people of latest events, promotions, press releases or company news. By posting your Web site URL to your Twitter profile or including your Web site link in a direct message to new followers, you would also be helping to boost traffic to your Web site.
Since it only consists of short updates, Twitter can often be easier to keep up with, as compared with blogging, and still help you connect and network with current or prospective customers. Many organizations use Twitter for customer service and as a quick way to monitor what others are saying about their brand.
How PRMG Can Help You Tap Into Social Media
The vast array of social media tools available can often be confusing. To help you cut through the social media clutter, we begin by first identifying your business and communication goals. Based on your target audience, we devise a marketing and communication strategy, and select social media tools that can help you best achieve your goals and reach your target audience most effectively.
Whether you need help with starting a blog, setting up a Facebook page or a Twitter profile, PRMG will always adopt an integrated approach to social media and ensure that it complements your traditional public relations and marketing efforts.