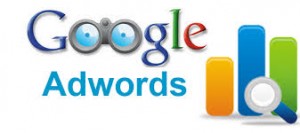 If you are not already familiar with Google AdWords please read our Beginner's Guide to Google AdWords to better understand the topic. 
On Wednesday June 5th, Google announced that it will begin to allow advertisers to add photos and pictures to AdWords campaigns.  The standard format, as viewed above, allows advertisers to target individuals who are already searching for specific products or services, and the ability to add a photo will only increase the effectiveness of these ads.
We know from our experience with social media that both ads and posts do substantially better when accompanied by images.  Not only do images increase the size of your advertisement, but they help your ads stand out.  High-quality images are engaging, and will help to expand the number of impressions that your online advertising campaign receives.
Use this advantage to strengthen your brand, by showing memorable visual content that you want immediately associated with your brand.  Previously, visual online advertising was limited to Google Display Network, which has a much more limited audience of websites that allowed Google ads to appear on them through Google's AdSense program.
Essentially, Google AdWords allows for easily customizable and highly targeted ads that, if done right, will give you a good return on your investment. This option is currently in beta mode, and is not yet available to everyone. If you are interested in developing new online advertising campaigns, please contact 1-855-PRMG-123 or email at info@theprmg.com .