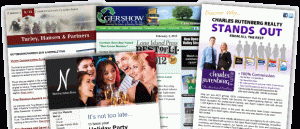 A strong e-newsletter is an essential component of any successful business' marketing strategy. No matter what type of organization or industry you belong to, e-newsletters are a crucial form of communication between your business and past and prospective customers. With the immense popularity and convenience of smart phones, iPads and other electronic devices, email marketing plays a critical role in maintaining contact with customers and clients. Maintaining a consistent e-newsletter program will prove to be a very important marketing asset for your company.
This article will explain the importance of e-newsletters in regards to lead generation, keeping in touch with your audience, content distribution, the importance of providing incentives and capturing contact information.
Generate Leads — Most importantly, e-newsletters can generate leads for your business. Even if your business provides a service or product that people only need at a certain time, by sending them an e-newsletter, you'll be able to keep your name on their minds. This way, they'll remember to reach out to you when they do require your services. It's important to include your contact information in every e-newsletter to ensure that viewers can easily reach you.
Stay in Touch with Your Audience — E-newsletters are the best way to keep in touch with past customers or clients and keep them informed. At least once a month, you should nurture your audience with an e-newsletter. Depending on your industry, you can include articles, press releases, holiday greetings, upcoming events, tips, photos and more.
Distribute Content — The quality of your content is the most important element of any e-newsletter or marketing material. Remember: an e-newsletter that doesn't contain any valuable or informative content is merely an advertisement. Make sure to develop content that meets your audience's needs and provides them with information that is of value to them. It's equally important to include hyperlinks that lead to more specific information, your main website and how readers can take action. For example, a non-profit organization can include a link to "Donate now!" while a law firm may include a link to "Click here for a free consultation!"
Provide Incentives — In order to build your e-newsletter subscriber list, it's important to give people a reason to sign up. It's vital to entice your audience to give up their contact information in exchange for some kind of incentive, whether it's a free download, consultation, special offer or coupons. Those who subscribe to your e-newsletter should be able to receive special tips, news or promotions that others do not. When your readers see something of value, they'll want to share it with others.
Capture Contact Information — On your main website and blog, make sure that there is a clear box to "Subscribe to our e-newsletter here," requesting the person's email address and any other contact information that you require. When people subscribe, you'll be able to build your network of potential clients. It's important to keep this contact information in an accurate, organized and up-to-date database.
How Do I Begin? — To send out e-newsletters, invest in an email marketing service such asStreamSend or Constant Contact. These programs provide HTML and text options and will allow you to send professional e-newsletters, alerts and messages to your audience. Using one of these third-party vendors will also increase the likelihood that your email will reach your intended recipients. Another benefit of using a professional email marketing service is that you will be able to identify and track recipients who open your email and click through.
Keep in mind that consistency is key! Ideally, you should be in contact with your audience via an e-newsletter at least once a month. Each e-newsletter should contain unique, current and informative content that is clearly branded with the name of your organization, the date of publication and a strong title. Most readers will choose whether or not to open an email based on the title alone.
It's also important to honor people's wishes on whether or not to keep receiving your emails. You must provide a clear opportunity for recipients to unsubscribe since failure to do so is subject to fines.
For any further questions, please contact The Public Relations and Marketing Group at (631) 207-1057 or johnzaher@theprmg.com. To take a look at our past e-newsletters, and to subscribe, please click here.