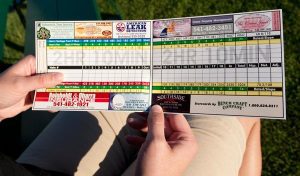 Long Island businesses looking to target golfers and more affluent male audiences can advertise on golf scorecards. Bench Craft Company offers advertisements on scorecards that feature local businesses at courses throughout Long Island, including Millpond, Middle Island, Bergen Point, Pine Hills and Rock Hill. Businesses featured on these scorecards receive constant attention during the round of golf and also after the game, since these cards are usually taken back to the home or office for further review.
A large percentage of golfers are business owners or prominent decision makers for businesses and 75% of them either recommend, order or approve of products or services for their business. Many of these golfers also play 4-5 rounds throughout the year. If you advertise on golf scorecards, you can put your business directly in front of this audience.
If your business would like to advertise on golf scorecards, please contact The Public Relations and Marketing Group at (631) 207-1057 or info@theprmg.com.