As Twitter continues to unveil a brand-new design and special features, there are more opportunities for businesses to benefit from this immensely popular microblogging site. Using the geography and selected interests of users, Twitter is able to target tweets, trends and profiles to an interested and relevant audience. The three advertising outlets on Twitter are Promoted Tweets, Promoted Trends and Promoted Accounts.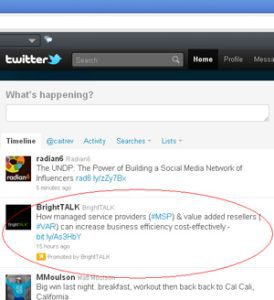 Promoted Tweets — Promoted Tweets appear the same as regular tweets, except that they are marked as "promoted" and can be targeted to Twitter search results or to users' timelines. Another bonus is that Twitter's geographic targeting increases the relevance of your message based on the user's location.
Promoted Tweets in Timelines — Twitter also takes users' interests into consideration when placing Promoted Tweets in timelines. When a user first creates an account on Twitter, they are asked to indicate topics that they are most interested in. After they click on a topic such as "Business" or "Travel," for example, Twitter will present them with users who are most related to this interest. In short, when Twitter is placing a Promoted Tweet, it takes into consideration the user's location, interests and what similar profiles they are following. This way, Twitter can better ensure that Promoted Tweets are reaching the right audience. For example, one Promoted Tweet that appeared in the newsfeed of The PRMG'sTwitter account was a tweet from Branders.com that read "Special clearance sale to all our followers until supplies last." This business offers products that you can put your name or logo on, so it would make sense that the Promoted Tweet would appear to a user who indicated an interest in "Business" and followed several users in this field.
Promoted Tweets in Search — When users search for their interests on Twitter, Promoted Tweets that are targeted to search terms will appear at the top of the results page.
Promoted Trends — Businesses can use Promoted Trends to insert their message surrounding a topic, brand or product beside popular trends. On Twitter, "Trends" refer to viral conversations surrounding the most popular topics at any given time. By being featured in the Trends section, next to a user's timeline, businesses can amplify their message and reach a much wider audience.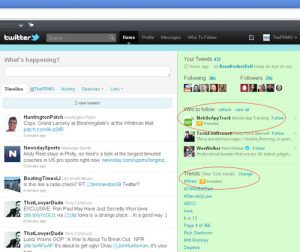 Promoted Accounts — Promoted Accounts are featured in search results and within the "Who to Follow" section on Twitter, based on what users have identified as interests. This section identifies and recommends relevant accounts for users to follow, helping them discover new businesses, content and people on Twitter. These campaigns can be geo-targeted to ensure that they reach the right audience.
How Much Does it Cost? — When you submit your request to advertise on Twitter here, you will be asked to submit your estimated monthly budget. The options are $5,000-$9,999, $10,000-$24,999, $25,000-$49,999, $50,000-$99,999 and over $100,000. After you set your budget, Promoted Tweets are billed at a Cost-per-Engagement (CPE) rate. This means that you pay your bid price when a user clicks on, retweets, replies to or favorites your Promoted Tweet. Promoted Trends, on the other hand, are offered for a flat fee in the high tens of thousands of dollars per day. These are very exclusive, since your chosen trend will appear at the top of every Twitter user's Trending Topics list. Lastly, Promoted Accounts are offered on a Cost-per-Follow (CPF) basis. For example, your business may bid a few dollars to have your account promoted at the top of a Twitter user's "Who to Follow" list.
If you would like to advertise with Twitter, click here. For more information about advertising on Twitter, please contact The Public Relations and Marketing Group at (631) 207-1057 orjohnzaher@theprmg.com.