Look Media is promoting a new campaign to get your message in front of diners at mall food courts, nationwide.
You can now have your ad created as a table-top,  edge-to-edge sticker to be plastered on every table in the food courts of your local malls and shopping centers.
Cost runs about $55/table/month and tables are available in the following New York malls:
The Source Mall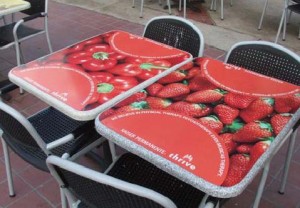 Smith Haven Mall
Roosevelt Field
Danbury Fair Mall
Willowbrook (NJ)
Freehold Raceway
Bridgewater Commons
Jersey Shore Premium Outlets
Paramus Park
South Street Seaport
Staten Island Mall
Queens Center
Woodbury Common Premium Outlets
If you're interested in obtaining some more information about this program, contact PRMG.