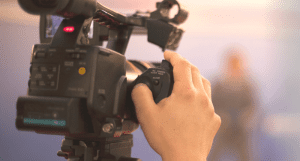 Video advertising, such as television commercials, is one of the most effective ways to spread your business' message to a wide audience. Most often, videos are spread through a business' website, video sharing sites like YouTube, or on TV. Professional video production usually comes in two forms: on-site and off-site. This article will provide an overview of the differences between on-site and off-site video production, as well as the benefits and disadvantages of each.
On–site video production
The biggest benefit of on-site video production is its contribution to your overall branding efforts. On-site videos are produced at the business, restaurant, law firm, or special event, giving exposure to the location itself. Showing the location promotes name and location recognition, which helps consumers feel more comfortable with a business.
Often, the business owner will be featured in the video to provide a personal message or present himself as the spokesperson for the business, or businesses will include the entire staff as part of the commercial. Other times, on-site videos include testimonials from actual clients and customers or actor portrayals of clients. On-site video production may include the voices of actual staff and clients, actors, voiceovers, or any combination of the above. These "real" audio and visual elements are highly customized and allow potential consumers to not only learn about your products and services, but also creates an emotional connection between individual consumers and the business (this can turn cold leads into warm leads every time a video is viewed).
Although filming is done on-site, most of the editing is done off-site. Off-site, producers will cut, edit, and compile the footage taken at the business' location. Producers also add text, graphics, and other design features to give the video a more professional appearance. In most cases, commercials and promotional videos will end with a graphic showing the business' name, location, contact information, and logo, but some videos will also include background music or sound effects. Off-site additions, particularly the graphics, constantly show the business' contact information throughout the video and reinforce consumer knowledge of the business. If a video includes a jingle or an original song, consumers are also more likely to remember the business. Continue reading "On or Off Site: Video Production for Every Business"