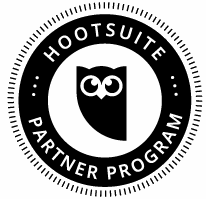 For businesses and agencies that need to keep track of multiple social media accounts, Hootsuite is the ultimate dashboard for social media management. Rather than remembering multiple passwords and going to each site to make posts, Hootsuite allows users to manage all of their social media accounts from a central location with either a free or Pro account (paid).  Here are our top five benefits of managing social media accounts with Hootsuite.
1)      Managing Multiple Accounts: Hootsuite is a platform that allows users to manage multiple social media accounts, including Facebook, Twitter, LinkedIn, and Google+, in one convenient place. It can also manage several accounts within the same social media platform, such as personal and professional Twitter accounts. Users with a free account can manage up to three social profiles. Pro accounts, which can be useful for businesses who work with agencies, are allowed access to 50 business/personal accounts and costs less than $10 per month. If you want to publish the same content on multiple profiles, you can generate the content on Hootsuite and choose which profiles display the content. You can also find and follow users for each social media site using Hootsuite.
2)      Scheduling Your Social Media Updates: Hootsuite can preschedule postings and updates, either manually or automatically, across all social media platforms. The user can specifically choose what time they want the content to be posted, or they can choose the auto-schedule feature, which will post the content at the most heavily trafficked time of day for the profile's fan base. Scheduling social media updates in advance can allow businesses and agencies to evenly spread out new posts and free up time later to devote to other marketing strategies.
3)      Team Settings: Hootsuite can be used by individuals or configured to allow multiple people to work together as a team. A business as a whole is considered the "organization," which is comprised of the multiple "teams" that manage the different social media accounts. This can be particularly useful for a business with multiple departments or a business that works with marketing agencies. Administrators of the Hootsuite account determine which social media platforms each team member can access. Administrators also delegate tasks to each team member. Using this strategy, there will be no confusion about who handles what within a campaign. Hootsuite's team settings also eliminate the need to share a password with multiple users, allowing for more security.
4)      Shortening Links with Ow.ly: Sharing links becomes easier with Ow.ly, a URL tool that shortens a link when posting to social media. This is particularly useful for Twitter, which relies on short messages and has a limit of 140 characters. Shortening links is a more aesthetically pleasing way to attach additional content, special offers, or relevant websites to a post. Ow.ly links can also track how many people click on your links and help you determine what types of content generate the most responses.
5)      Tracking Your Success: Hootsuite provides custom analytics reports for all platforms, integrating Facebook Insights, Google Analytics, Twitter profile stats, Ow.ly click-through rates, and more to provide a comprehensive look at your social media success. Hootsuite also tracks how your followers are engaging with your content. You can separate your fan base by demographics and location and target a specific audience. Analytic reports can be scheduled to update daily, weekly, bi-weekly or monthly, depending on your business' needs.
All of the above features, plus many more, make Hootsuite a powerful tool for those who are trying to juggle numerous social media accounts. The Pro version is priced very reasonably and is well worth the money if you are keeping track of more than the three accounts the free version allows. If you are interested in Hootsuite or would like to create a new social media strategy, contact The Public Relations and Marketing Group at 1-855-PRMG-123 or email info@theprmg.com . To sign up now for Hootsuite and become a partner with PRMG, click here.