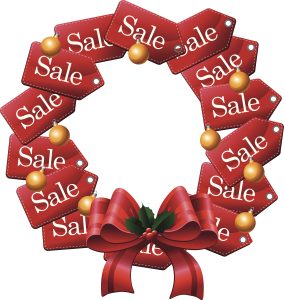 The most prosperous time of year is approaching: the fourth financial quarter and the holiday season. How can your business capitalize from the holiday rush? Start planning your holiday marketing efforts now! Use your business' social media sites, online marketing, and public relations efforts to build a comprehensive holiday marketing plan.
Social Media Marketing
As each holiday season comes and goes, consumers become more engulfed in their social media accounts. Use social media to directly influence your customer base. First, grab their attention by adding fun and festive elements to your usual marketing strategies.
The holiday season means that consumers want a good value for their dollar. By offering a coupon on social media sites (whether it is "take 10% off your entire purchase" or "$5 off any specified item"), you are giving consumers a reason to visit your store. Even visitors who were not previously planning on buying your goods or services may be enticed to do so.
Don't forget to add a fun, festive feel to your social media offers. In addition to the usual coupon offers mentioned above, you may also consider the offers listed below:
Coupons for holiday items only
A special promotion if the customer mentions your post at the time of checkout
An exclusive offer to customers who share your post
Rewards card. For example, make five purchases in December and receive $10 off your next purchase
The next 10 people who "like" or "follow" your page get a coupon, promotion or something small for free
Publicize Black Friday/Cyber Monday
Don't limit marketing efforts to Facebook.  Including Twitter, Instagram, Tumblr or Google+ in your efforts will increase the effectiveness of your offers.
Social media is also a great platform to offer contests. For example, Facebook allows you to start a contest stating "the first 100 people to 'like' our page/status/picture will be entered to win a free dinner." To keep it in the theme of the holidays, we recommend the following contests:
Post your favorite gift item bought from our location
A "guess this item" contest (post a picture of an item zoomed in or distorted)
A contest in which users can choose who the winners are. For example, department stores may offer a contest for best house decorations (featuring items from your store), while restaurants may allow users to pick the best photo of an appetizer or entrée shared on social media.
Website Marketing
Your business' website is also a valuable platform for marketing during the holiday season. Start simple: add a winter greeting to your site. This will give the feel that your business is friendly, approachable, and modern. In addition to adding graphics to your page, you may also consider updating some of your website's content to include holiday-themed advice.
Blogging is becoming a growing platform for online marketing. When blogging for the holiday season, you may consider creating articles about favorite gift ideas from your store, best sellers or hot items exclusively available during the holiday season. These unique articles should be custom tailored to items in your store in order to help generate foot traffic.
In addition to blogging, your website can include a Specials page, which features the following:
Top items your business is selling
Seasonal (i.e. Merchandise, menus, service packages, etc.)
Links to social media contests
Coupons
Email Marketing
Email marketing can build loyalty and keep your customer base coming back during the holiday season. Tell consumers about what is currently available, favorites from other customers, employee news, or philanthropic endeavors. Consider sending e-newsletters twice a month instead of once a month to show any of the popular items that may have come in during the time period from one e-newsletter to the next. You may also offer an option for consumers to join your email list in order to receive a one-time holiday discount or coupon through their email.
Another email you may want to send out is a "Season's Greetings" email, in which you wish those on your email list a happy and healthy holiday to keep the spirit of the holiday season up. Keep in mind any email marketing you do should also reflect the holiday theme with graphics and color schemes.
Public Relations
The holiday season is a great opportunity to get your business in the press. Giving back to the community is an easy way to get the attention of your community. One example of press worthy philanthropy is to convert your business into a drop-off center for a non-perishable food drive, a winter coat drive, a toy drive, or a collections center for other items. Be sure to mention which charity will benefit from your endeavors
Depending on your business' expertise, you may also consider donating your services to a fundraiser or organization. Don't forget to write off the donation of your business' time as an in-kind donation!
No matter the event, it is important to remember to take photos and upload them to your websites and social media platforms.
Holiday marketing can benefit any business, whether you are a restaurant, retailer, or service provider. In order to keep your holiday marketing effective, remember the key components: your marketing should be fun and festive-looking, any offers or promotions should tie in the holiday season, and as always, keep your branding consistent. For a consultation in holiday marketing, you may call us at 1-855-PRMG-123 or you may email us at info@theprmg.com.