Murali Krishnamurthy and Mohan Wanchoo Leave a Remarkable Impact on Charitable Causes Related To Their Indian Roots
Murali Krishnamurthy and Mohan Wanchoo both led successful careers in Information Technology (IT) before stepping down and deciding to make a change in their lives that would help those who are underprivileged in their home country of India.
Mr. Krishnamurthy came to the U.S. in 1981 to pursue a master's degree in computer science. For years upon his graduation, he worked in the IT industry. At the same time, his late uncle, P. Balasubramaniam, was a Rotarian and volunteered at the Sankara Eye Hospital in Coimbatore. In 1998, Mr. Krishnamurthy's brother visited his uncle and returned to the U.S. extremely impressed with Sankara's philanthropic efforts. The two were then motivated to form the Sankara Eye Foundation, U.S. chapter, using Mr. Krishnamurthy's house as their office until 2008.
Mr. Krishnamurthy quit his job in the IT industry in 2009 to take on a full-time role as Executive Chairman of Sankara's U.S. chapter. "I neither enjoyed computer hardware nor software and there was no fire in the belly," he says. "But the responsibility of running Sankara U.S. brought out new energy and enthusiasm in me and I found my calling in life."
Mr. Wanchoo grew up in New Delhi, India, where he received a Bachelor's degree in Physics. When he moved to the U.S. in 1981, he also pursued a Master's degree in Computer Science, motivating him to launch EC Infosystems Inc. (ECI) in 1997. After its launch, Mr. Wanchoo built the company into the leading provider of electronic data interchange and billing/customer information systems for the deregulated energy industry. Thankful for his success, Mr. Wanchoo felt a duty to become involved with charity and give back to the less fortunate.
"I feel like I have done enough for myself," he says. "Now I want to work for the underprivileged folks who aren't able to enjoy what we can."
Mr. Krishnamurthy worked hard to advance Sankara's goals with its new U.S. chapter. He even founded a light music group, Pallavi, to organize shows that would raise money for the cause. With his efforts, Mr. Krishnamurthy helped to drastically increase Sankara's funds, resulting in a significant growth in surgery rates. "We started raising funds here and the number of free eye surgeries started increasing from 8,000 a year, to 15,000, to 22,000 a year," he says. With his help, Sankara has been able to build eleven eye hospitals, as well as create partnerships with 10 other eye hospitals to cover all parts of India.
Currently, Sankara is the world's largest free eye care program with a success rate over 98%. With over 45 million Indian citizens blind or visually impaired, Sankara provides treatment to 80% of people with curable eye disease. The organization performed 355,000 free surgeries last fiscal year, and has the current capacity to perform 490,000. This year, they plan to perform 450,000 surgeries. The foundation is dedicated to reaching their "March to a Million" goal by 2030, striving to provide one million free eye surgeries annually to eventually eradicate curable blindness in India entirely. This year is the organization's Silver Jubilee year, as it has been bringing light into millions of lives for 25 years. A $30 donation can cover the cost of one eye surgery for a person in India. To donate, visit https://give.giftofvision.org/give/422256/#!/donation/checkout.
Mr. Wanchoo works closely with Sankara and serves as a spokesperson for the organization. On October 7th, he will be assisting Mr. Krishnamurthy in hosting Sankara's annual Be The Light Charity Gala to raise funds for free eye surgeries in India. Last year, the event raised $1.3 million, equating to 66,000 surgeries. This year, Sankara hopes to raise more than $2 million. Sponsorship opportunities are available. To learn more about the event and Sankara's mission, visit https://youtu.be/mb763_rYRiQ. For sponsorship information, visit https://www.giftofvision.org/sponsorship-information. To attend the event, visit https://www.giftofvision.org/registration-form. The event will take place at Cipriani 25 Broadway in New York City.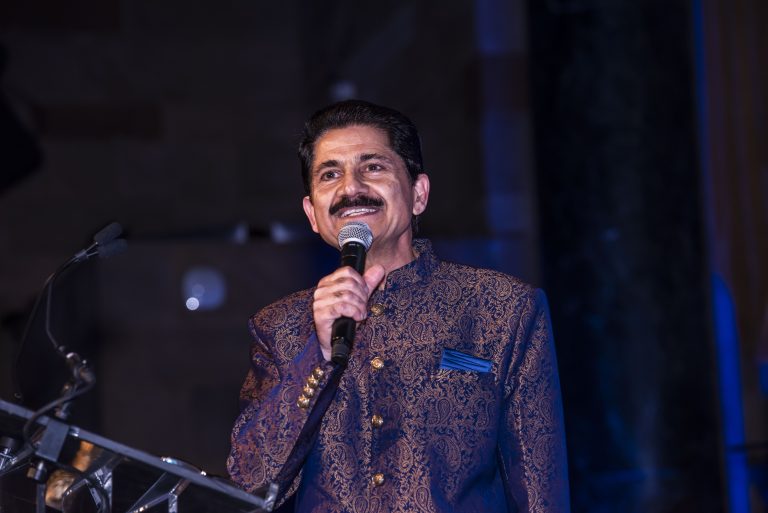 In addition to Sankara, Mr. Wanchoo also works with Ekal Abhiyan to bring education and empowerment to 2.2 million children in 85,000 schools in remote parts of rural India. "Education is a door opener," he says. "With our help, these children will be able to make their dreams come true. It's a tremendous feeling." To further reform the educational system in India, Mr. Wanchoo also works with Vidya Bharati, which runs over 12,000 schools across India, while providing education to nearly 3.2 million students.
Mr. Wanchoo also works with the Kashmiri Overseas Association (KOA) that, among other things, provides financial assistance to children that have lost their parents to ethnic cleansing in Kashmir. Recently, Mr. Wanchoo traveled with the Global Kashmiri Pandit Diaspora (GKPD), a Kashmiri Pandit civil society movement, to Washington D.C., where he attended events welcoming the Prime Minister of India, Narendra Modi. He also supports the Saint Hardyal Educational and Orphans Welfare Society (SHEOWS) that saves the lives of abandoned, destitute and homeless senior citizens across Delhi NCR and Uttar Pradesh. By also working with The Art of Living/International Association of Human Values (IAHV), Mr. Wanchoo helps introduce people to breathwork techniques to reduce gang violence and crime among school children and inmates of correctional facilities in New York City and Long Island. Finally, Mr. Wanchoo's efforts with Vatsalyagram help bring orphans and widows together in one home in India, thus resurrecting their shattered families.
"The feeling that we brought happiness and purpose into someone's life is life-changing," Mr. Wanchoo says.
As for Mr. Krishnamurthy, he continues to perform with Pallavi, putting on shows to fundraise for various non-profit organizations. "Now my hobby and profession are the same and I want to make the best of this once-in-a-lifetime opportunity to make a difference and leave a mark," he says. "It has been a great journey and the next seven years are going to be a thrilling ride towards Vision 2030."
For more information, visit www.giftofvision.org.
###
About Sankara Eye Foundation
Sankara Eye Foundation is a non-profit organization dedicated to providing free eye surgeries to those experiencing blindness or other visual impairments across India. The organization relies on donations to eradicate curable blindness, performing eye surgeries for only $30 USD. Sankara performed 355,000 eye surgeries last fiscal year and has built the capacity to perform 490,000 this year. By 2030, the organization hopes to reach their "March to a Million" goal of performing one million free eye surgeries annually. For more information, visit www.giftofvision.org.