SCHENCK USA Hosts Distribution of Kits of Parts to Teams Due to SBPLI's COVID Safety Protocols
KINGS PARK, NEW YORK — On January 8, U.S. FIRST® (For Inspiration and Recognition of Science and Technology) unveiled this year's FIRST Robotics Competition (FRC) challenge, "RAPID REACTSM" presented by The Boeing Company.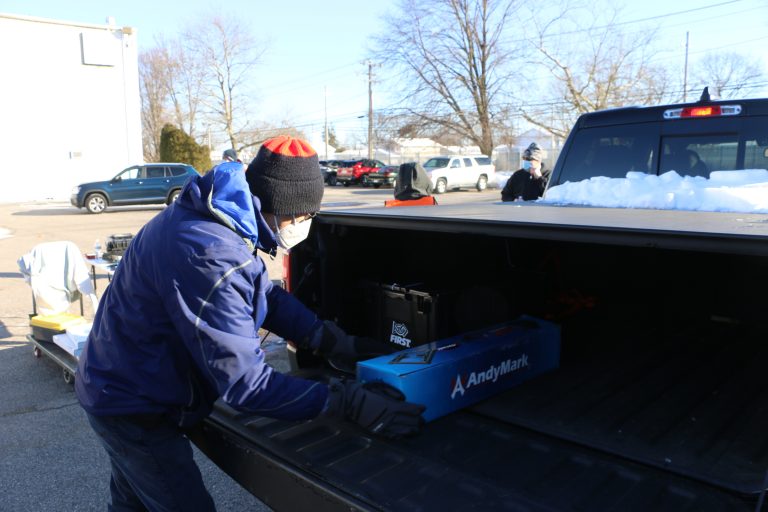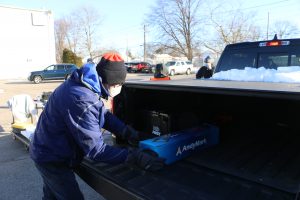 RAPID REACT is part of the 2021-2022 FIRST season, FIRST FORWARDSMpresented by Qualcomm, in which FIRST teams will explore the future of transportation. From the shipment of packages in rural and urban areas, to disaster relief delivery and high-tech air transit, teams will re-imagine faster, more reliable, inclusive and sustainable transportation innovations that better connect and grow communities and economies around the world.
In RAPID REACT presented by The Boeing Company, two competing alliances are invited to process cargo for transportation. Each alliance is assigned a cargo color to process by retrieving their assigned cargo and scoring it into the hub. Human players assist the cargo retrieval and scoring efforts from within their terminals. In the final moments of each match, alliance robots race to engage with their hangar to prepare for transport.
However, due to COVID concerns, participation by School-Business Partnerships of Long Island (SBPLI), also known as FIRST Long Island, was atypical. Unlike previous years in which the organization hosted a local event with breakfast, local presentations and the FIRST broadcast, SBPLI limited its participation to handing out the kits of parts to Long Island teams outdoors. Team leaders traveled to SCHENCK USA CORP. in Deer Park, where SBPLI volunteers distributed a build kit to each team. Each build kit contained motors, batteries, control system components, construction materials and a mix of additional automation components, along with limited instructions.
"Leading up to the main competition, FIRST Long Island students will work with coaches and mentors to apply concepts of math, science and engineering to build their robots to meet the game's objectives," said Lawrence Toonkel, FRC Director, SBPLI. "The FIRST Robotics Competition is not just about the design and build of sophisticated robots; our students will also learn important concepts such as teamwork, problem solving and healthy competition. Over the years, FIRST students from Long Island received more than $8 million in scholarships for higher education, in areas of science, technology, engineering, business or math in college. These students also develop maturity, professionalism and teamwork skills that enrich their lives. Our graduates often pursue careers with sponsoring companies, meeting the businesses' needs for well-rounded, technically skilled employees."
FIRST isn't limited to Long Island; nearly 3,900 teams from all over the world came together as a community to share in the excitement of seeing the new game unveiled and will draw on this enthusiasm during the build period. During this time, all FIRST students will be asked to design, build, test and update their robots before the start of the 2022 competition, which includes more than 170 Regional and District events beginning in late February. These events measure the effectiveness of each robot's design and control, the power of teamwork and the determination of participating students not only to win, but to learn and have fun.
To learn more about RAPID REACT, visit https://www.firstinspires.org/robotics/frc/game-and-season. For more information on SBPLI, visit www.sbpli-lifirst.org.
###
About FIRST®  
Accomplished inventor Dean Kamen founded FIRST® (For Inspiration and Recognition of Science and Technology) in 1989 to inspire an appreciation of science and technology in young people. Based in Manchester, N.H., FIRST designs accessible, innovative programs to build self-confidence, knowledge, and life skills while motivating young people to pursue opportunities in science, technology, and engineering. With support from over 200 of the Fortune 500 companies and more than $30 million in college scholarships, the not-for-profit organization hosts the FIRST® Robotics Competition for students in Grades 9-12; FIRST® Tech Challenge for Grades 7-12; FIRST® LEGO® League for Grades 4-8; and FIRST® LEGO® League Jr. for Grades K-4. Gracious Professionalism® is a way of doing things that encourages high-quality work, emphasizes the value of others, and respects individuals and the community. To learn more about FIRST®, go to www.firstinspires.org.
About School-Business Partnerships of Long Island, Inc.
School-Business Partnerships of Long Island, Inc. (SBPLI) DBA FIRST® Long Island is a fully volunteer-run 501(c)(3) non-profit organization founded in 1984 by Fred Breithut with the goal of developing partnerships between local high schools and businesses. His goal was to provide students with practical experience and curriculum development, while helping the business community develop its future workforce, which resulted in the formation of over 100 partnerships. In 1999, SBPLI brought the FIRST® (For Inspiration and Recognition of Science and Technology) to Long Island, which featured just eight FIRST® Robotics Competition high school teams. Since then, the Long Island Regional FIRST® Robotics Competition has grown to two events with over 80 teams competing each year. SBPLI also hosts Long Island's annual FIRST® LEGO League Qualifying and Championship Tournaments and the FIRST® LEGO League Junior Expos, in which over 2,500 elementary and middle school students from Nassau and Suffolk Counties take part each year. In 2016, SBPLI added the FIRST® Tech Challenge to its roster of programs. For more information about the programs, or to learn how to become a sponsor, visit www.sbpli-lifirst.org.